Newborn photo sessions are the perfect way to capture those adorably unforgettable pictures of your littlest love. There's something extra precious about the newborn stage. Those beautiful pictures, with their soft lighting and beautiful baby faces—but your session experience can vary from happy cozy baby to cranky hungry newborn! Do you want to have the perfect newborn session? These nine secrets will help get you on your way.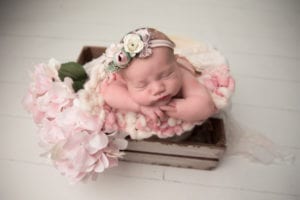 Newborns, it seems, are often hungry. The last thing you want is a screaming little one in the middle of your newborn photo session. If you want to help your little one settle and enjoy the session, make sure they have a full tummy beforehand. Sit down, cuddle, and nurse, or offer a bottle.

For mothers who are unable to breastfeed, we highly recommend this article written by The Surrogacy Center of Philadelphia for expert advice and methods. Full tummies make for happy babies!
2. Schedule Your Session Close to their Nap Time.
Making sure your little one is all tuckered out for their session is important to make sure we get the most out of our time together. I want to make sure you have plenty of pictures to love and adore once your session is over. Take into consideration your little one's sleep schedule before we decide on a time for your session. However, don't worry if your little one does end up awake and ready for their own cry solo. You're welcome to take all the time you need to comfort and soothe your little bundle if they should become fussy. Your images will come out beautifully either way, but of course, we'd love to make sure your bundle gets to sleep through it so you can focus on relaxing and enjoying the experience.
Newborn photography requires special care and training. Many of those lovely newborn pictures you admired take a lot of work. as you scrolled through Pinterest or checked out photography galleries are the result of hours of training, practice, and even editing. so make sure your photographer has experience working with newborns. That experience will help the session move much more smoothly. As well as keeping your little one safe and comfortable while they're moved into those fun positions that are only possible when they're so little. An experienced newborn photographer will also have many of the props and accessories you'd most like to include in your session.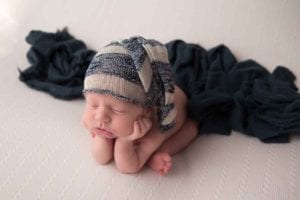 4. Think about the poses you want most before your session.
Chances are, you've spent some time browsing through newborn photos. Imagining the perfect pictures you want most of your little one. If you want a smooth, perfect newborn session. Take the time to discuss those with your photographer before you come in for the session. Let's talk about the poses you most want, any props that you want to incorporate in the session, and even pictures that you just didn't like when you saw them online. I want to create the perfect newborn session for you and your baby—so let's take the time to plan it out together!
5. Come Prepared.
As the parent of a newborn, you've likely already learned that you can't leave the house without a gear bag packed full of everything that you and your baby need. As you're packing up for your photo session, make sure that you have the right gear on hand:


Pack plenty of diapers and wipes.
Don't forget the formula, if you're formula feeding. For a 101 on bottle-feeding, please visit this incredible guide from Sell Formula here.
Bring a pacifier (the round ones you get at the hospital are less likely to leave lines in the baby's tender skin).
Add a change of clothes for the little one to your bag (for outfit changes and accidents).
Bring extra water and snacks for mom. Breastfeeding mothers get hungry and thirsty quickly!
6. Make Sure To Plan for the Siblings.
You are absolutely welcome to bring any of your other little ones along, especially if you intend to incorporate other family members or siblings into your newborn session. But just like you have to bring essentials to your tiniest edition, you'll need to prep for them as well. So make sure you get them to bed early, feed them before the session (they usually last 2 to 3 hours), bring snacks, and dress them for the forever memories we'll be creating!
The good news is, you won't have to worry about the entertainment for them while they wait! My studio space includes a comfortable seating area for you and your little ones to relax and enjoy. I provide free wifi as well as video streaming applications such as Netflix and Hulu! This means you can enjoy your session without worrying about fussy toddlers!
7. Plan your Session Carefully.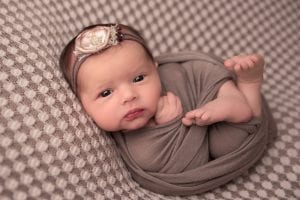 Ideally, you want to take your newborn pictures after your baby is five days old, but
before they reach the two-week mark. This is when they are the most flexible and more likely to sleep through the entire session. So make sure you schedule your session about a month and a half in advance. I completely understand if there are any delays or early arrivals, so no need to worry if this happens! I'll work with you to make sure we get those perfect moments. If your baby is a little older when you schedule your newborn session, don't worry, a milestone session will capture your little one's adorable features just as well! Some of my favorite newborn pictures include babies with eyes open, looking straight at the camera.
8. Dress Comfortably.
To keep your baby comfortable during a newborn session, we make sure to keep the studio nice and warm. That means that you may be hot in your normal clothes, especially if we're doing a session in the middle of winter! Dress in loose, comfortable fabrics, and consider short sleeves or even a sleeveless outfit. This simple change can help keep you far more comfortable during the session—and a comfortable mom often means a happier baby!
Warm and natural tones are the way to go if you want to keep the focus on your little one. Soft colors and pastels create a light and airy mood and highlight your newborn's delicate and precious features. White is the perfect go-to if you can't seem to find the right attire— be sure to avoid black, red, and vibrant colors if possible.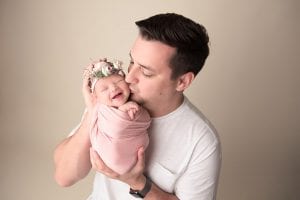 9. Sit Back, Relax, and Enjoy.
Your newborn photo session is a great experience. It's not just a wonderful way to capture your baby's earliest days; it's also a great time to relax for a little while! Your session should be a pleasant experience for both you and your baby. When you relax, the baby will stay more relaxed, too. Sure, there will probably be some unexpected moments along the way—poop and tears at unexpected times—but that's okay! We're going to have fun and get some great pictures regardless of what happens, so relax and enjoy the session.
Are you ready to schedule an amazing newborn photo session that will allow you to capture precious memories of your baby's earliest days? Contact me today to set up your session! I can't wait to talk with you about picture ideas, discuss your plans for your baby, and share these incredible moments with you.
Some of My Recent Work: